The Clinic for Dermatology & Wellness
2924 Siskiyou Blvd, Suite 200
Medford, OR 97504
Phone: (541) 200-2777
Fax: (541) 214-2575
Tuesday–Friday: 7:30 a.m.–5:30 p.m.

The Annex at the Clinic
2937 Siskiyou Blvd, Suite 1
Medford, OR 97504
Phone: (541) 200-2777
Fax: (541) 214-2575
Tuesday–Friday: 7:30 a.m.–5:30 p.m.

Redefining Skin Cancer Treatment in Southern Oregon
We are proud to introduce GentleCure Image-Guided Superficial Radiation Therapy (IG-SRT), a groundbreaking skin cancer treatment. We are the first practice in Southern Oregon to offer this innovative alternative to Mohs surgery, demonstrating our commitment to providing our patients in Medford, Grants Pass, Ashland, and Northern California with the most advanced skin cancer treatment available. 

At The Clinic for Dermatology and Wellness, we understand the anxiety you may experience when facing a skin cancer diagnosis. Our practice is driven by a patient-centric approach and a commitment to compassionate care, and we are here to support you every step of the way.
We strive to offer you the best possible outcomes, and investing in leading-edge technology plays a big part in that. Our team's expertise and state-of-the-art resources fully equip us to provide you with top-quality care.
What Is GentleCure?
GentleCure uses advanced radiation-based therapy that redefines the standard of care for skin cancer treatment. It offers a range of benefits that make it superior in many ways to traditional methods, such as Mohs surgery. This nonsurgical procedure provides efficient, minimally invasive treatment while achieving exceptional outcomes.
What Are the Benefits of GentleCure?
GentleCure IG-SRT offers several significant benefits:
Efficient Treatment Process
GentleCure is the only skin cancer treatment that incorporates ultrasound imaging. This allows you and your doctor to see the cancer, accurately target the tumor, and witness its progressive shrinkage throughout the treatment process.
Additionally, GentleCure offers shorter treatment sessions than Mohs surgery, so you can spend less time in the clinic and quickly resume your daily activities. Unlike surgical excision, there is no downtime.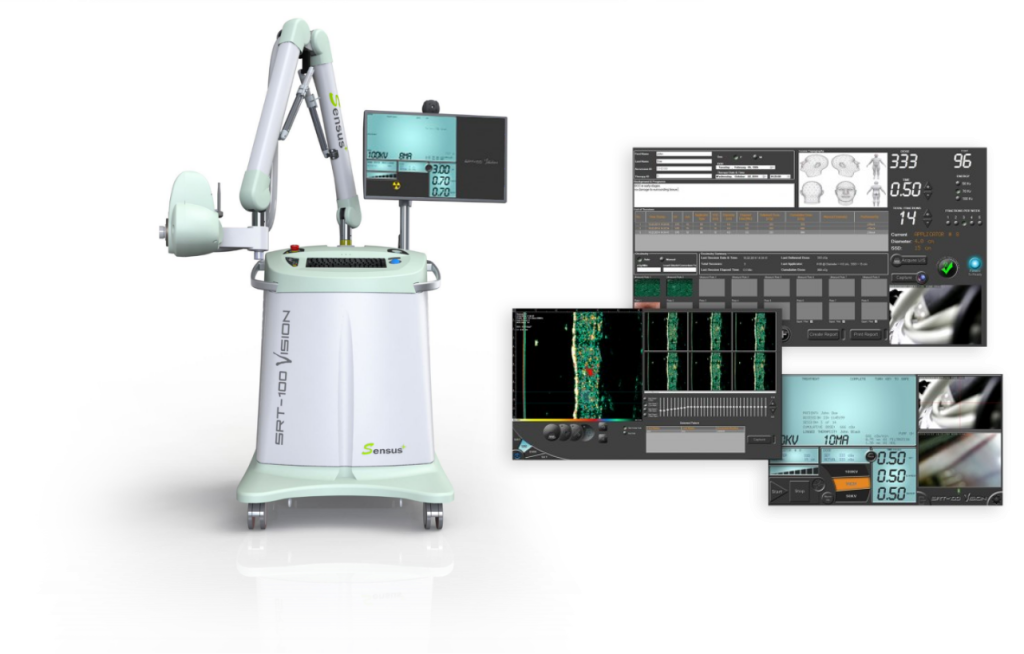 Minimally Invasive Procedure
Unlike Mohs surgery, GentleCure does not involve anesthesia, incisions, stitches, or the need for reconstructive surgery.
One of the significant advantages of GentleCure is its ability to preserve the natural cosmetic appearance of the treated area. Unlike Mohs surgery, which may require the removal of some healthy tissue, GentleCure targets cancer cells while minimizing damage to surrounding healthy skin. This approach reduces the risk of scarring and leads to superior cosmetic outcomes.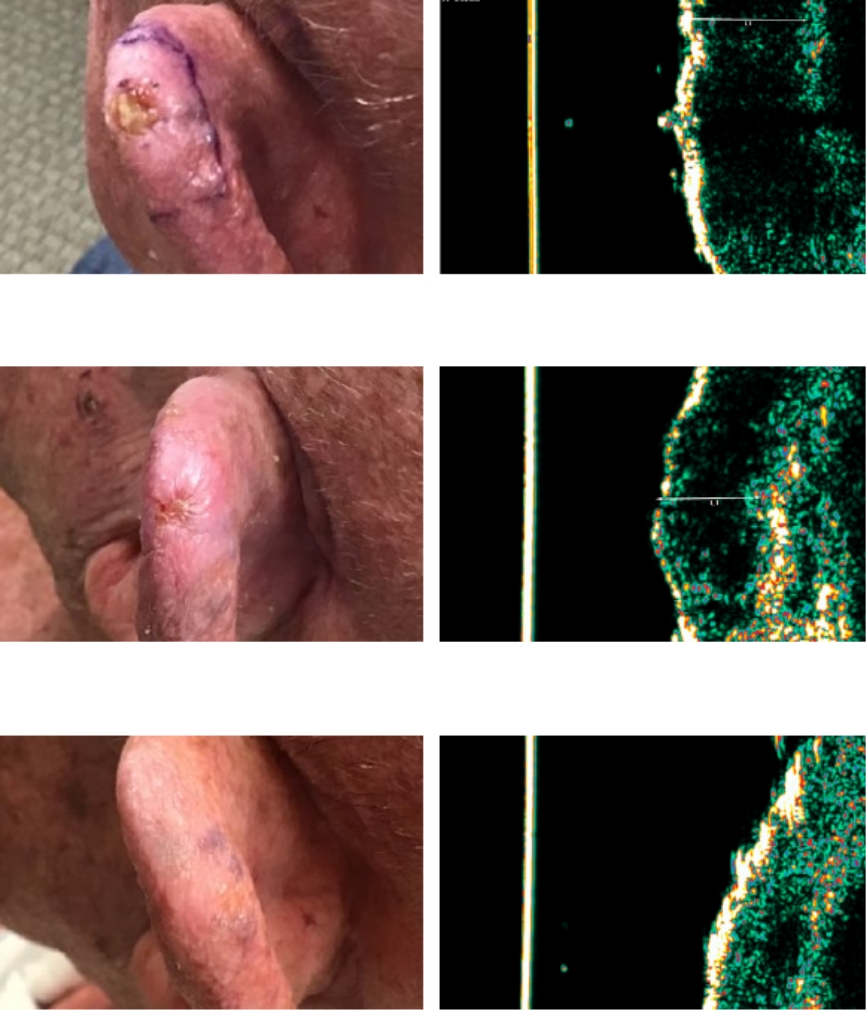 High Success Rate and Superior Outcomes
Rigorous clinical studies have been conducted to evaluate the efficacy of GentleCure IG-SRT. These studies have demonstrated a 99% cure rate for basal cell carcinoma and squamous cell carcinoma—higher than those of Mohs surgery—confirming the effectiveness of this radiation-based therapy. Patients have experienced exceptional outcomes, allowing them to overcome skin cancer while preserving their appearance.
Am I a Good Candidate?
GentleCure may be right for you if you:
Prefer a nonsurgical treatment option.
Want to see the tumor shrink as confirmation of treatment effectiveness.
Have multiple lesions that require treatment.
Wish to avoid the potential side effects associated with surgery.
Are concerned about cosmetic results.
GentleCure is suitable for various skin cancers, including basal cell and squamous cell carcinoma. Your dermatologist can advise if you are a good candidate for this treatment.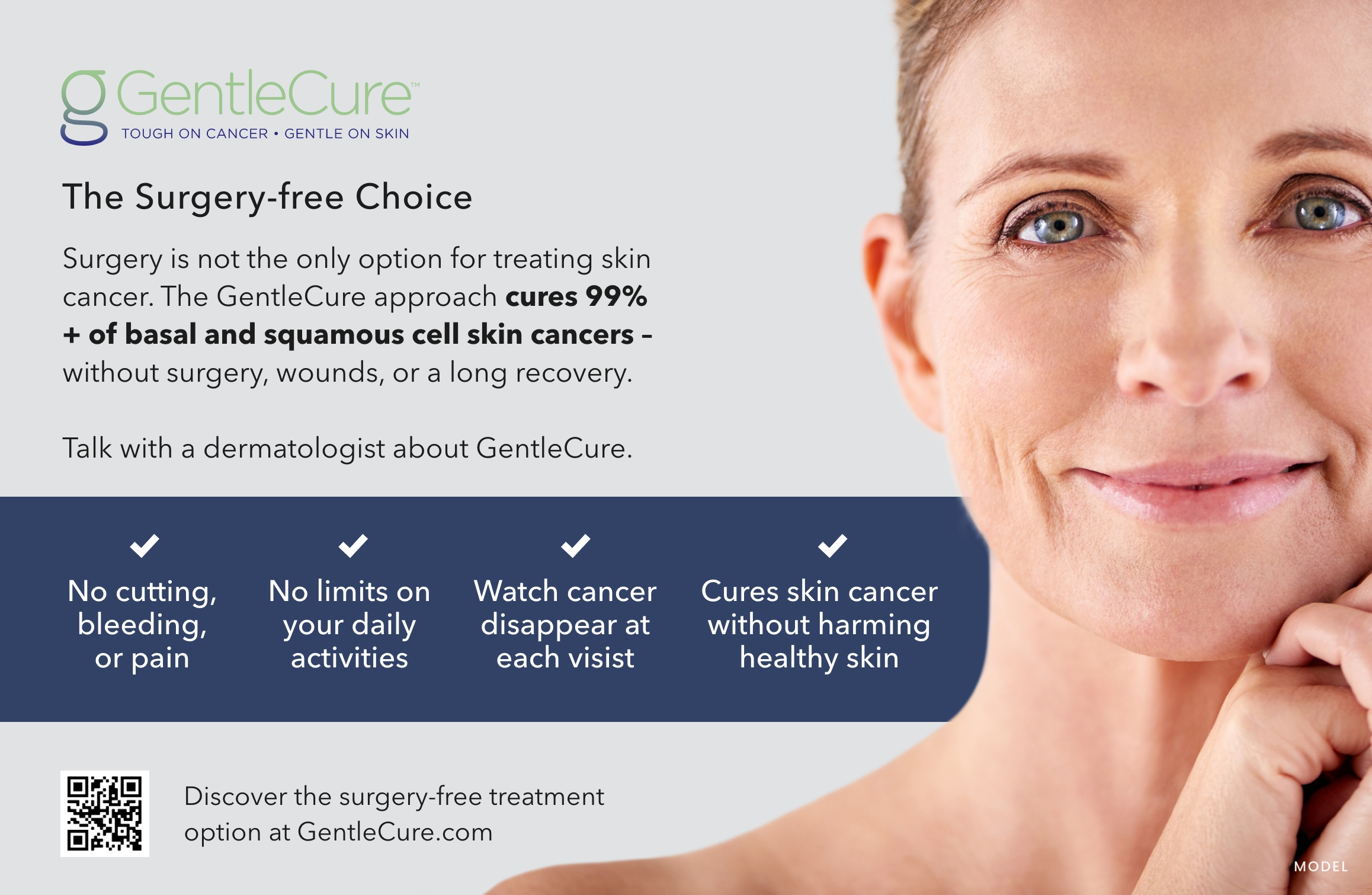 How Much Does GentleCure Cost in Oregon?
The cost of GentleCure at our Medford, Oregon, practice depends on the complexity of the procedure and varies by patient. We provide a personalized pricing estimate during your consultation. Most major insurance carriers cover GentleCure for skin cancer treatment, and our team can assist you in navigating the process.
What Should I Expect During GentleCure IG‑SRT Treatment?
Step 1
During GentleCure treatment, you are comfortably seated while your doctor applies a gel to the treatment site. Using a small imaging wand, the doctor creates a detailed image of the cancer on a screen. They measure the tumor's size and shape, calculate the treatment dosage, and define the treatment area.
Step 2
Once the imaging process is complete, your doctor positions the device's arm over the treatment site. A precisely targeted dose of X-ray energy is delivered to the cancer site, effectively treating it while minimizing harm to the surrounding healthy tissue. Ultrasound imaging allows you and your doctor to see the cancer and closely monitor its response throughout the treatment.
Step 3
GentleCure is typically delivered in stages, usually involving 3 to 5 treatments per week for 4 to 7 weeks. Each treatment session is painless and can be completed in as little as 15 minutes. Up to 3 tumors can be treated simultaneously. Your doctor adjusts the dosage at each stage based on how the tumor responds to treatment.
Step 4
This treatment requires no downtime, and since the procedure is nonsurgical, there are no stitches or scarring. Your dermatologist provides detailed aftercare instructions for a seamless recovery process.
Take Control of Your Health with an Annual Skin Exam
When it comes to skin cancer, time is of the essence. The sooner potential issues are identified, the higher the likelihood of successful treatment. Yearly skin cancer screenings are the cornerstone of early detection, enabling us to identify any warning signs and act quickly. Think of your annual skin exam as your proactive step toward a lifetime of skin health.
Schedule a Consultation
The Clinic for Dermatology and Wellness is proud to bring this groundbreaking, effective skin cancer treatment to our patients. If you have questions about GentleCure IG-SRT or would like to schedule a consultation for a skin cancer screening, please call our office today at (541) 200-2777 or request a consultation.