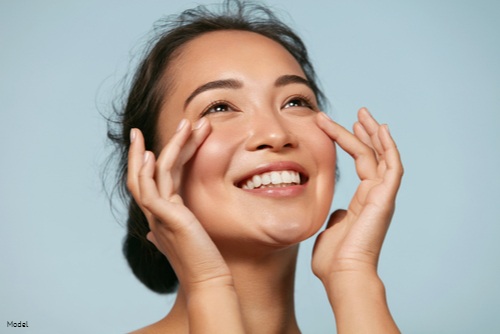 While genetics plays a role in the health and vibrance of your skin, you have a lot more power and control over your complexion than you may think! In fact, you probably have 95% of the power when it comes to sun damage, your skin's radiance and the aging process. If you want to enjoy younger-looking skin that glows from within, the answer is simple: You need to exercise and feed your skin — just like your body! Here's how:
1. Choose your sunscreen wisely!
Here's our wish for you: Every morning, you literally look forward to putting on your sunscreen because you know you're applying a results-driven product that not only protects your skin from damaging UV rays but also nourishes it with antioxidants, peptides and other active, glow-getting ingredients. This can be your reality if you invest in medical-grade sunscreen. If you've been stuck in the rut of buying drugstore sunscreens, we've got news for you: The world makes amazing sunscreens that multitask to protect and perfect your complexion! For one example, we carry medical-grade skin care products from TIZO®, including Ultra Zinc Body & Face, a moisturizing broad-spectrum SPF 40 sunscreen suitable for all skin types and tones.
2. Stimulate your skin!
Every season calls for renewal, especially during the transition times of spring and fall. Now that's spring is here, we recommend shedding your dull winter skin to stimulate your skin's natural renewal process. You can do this with a wide range of treatments, depending on your skin type and goals:
Chemical peels are suitable for all skin types, even darker tones.
Halo™ and our BBL® treatments are ideal for Fitzpatrick types 1-5. Halo helps resurface your skin, revealing smoother texture, brighter tone, smaller pores and much more. BBL Forever Young™ stimulates new collagen and elastin with no downtime while also correcting pigmentation concerns like sunspots, age spots and freckles. BBL can also correct redness and small veins.
HydraFacial® is ideal for all skin types and helps exfoliate dull, damaged skin cells and replenish your skin with nourishing peptides and other active ingredients for a radiant glow with zero downtime.
3. Get your annual skin cancer screening!
When was the last time you came in for a full-body skin cancer screening? Don't worry if you've never had one, but the time to get started is now. It's truly never too late to start your annual skin cancer screening. The Clinic is passionate about helping you maintain optimal skin health. Our providers and staff can help you keep a close eye on your moles and any spots that may concern you. We'll take pictures of your areas of concern to make sure they stay consistent year to year. If there are any signs of growth, a routine annual exam is the surest way to detect it early and ensure you get treatment early, if necessary.
Here's a fun idea: Why not combine your skin cancer screening appointment with an aesthetic treatment you love to give you the incentive you need!
Are you ready to take your skin health and radiance to the next level this spring? We sure are! To discover the perfect skin care treatments and products for you or to schedule a skin cancer screening, please call 541.200.2777 or book your appointment online today.